PUOTINHARJUN PUHOS, EAST-HELSINKI 25 AUG 2018
Puhos ♡ People 2018 is a cultural festival for the whole family. The event takes place on Saturday 25th of August 2018 at the Puhos Mall, located in Itäkeskus area of Helsinki, Finland. The Puhos, which is one of the liveliest multicultural hubs of the Helsinki city, is a centre maintained by multilingual actors consisting of different communities, shops, restaurants, cafés and mosques. The mall is a spontaneously developed meeting point which gathers people from diverse backgrounds. Puhos ♡ People brings together music, food and other culture programme designed together by the communities from Puhos and other parts of Eastern Helsinki. The event is alcohol free.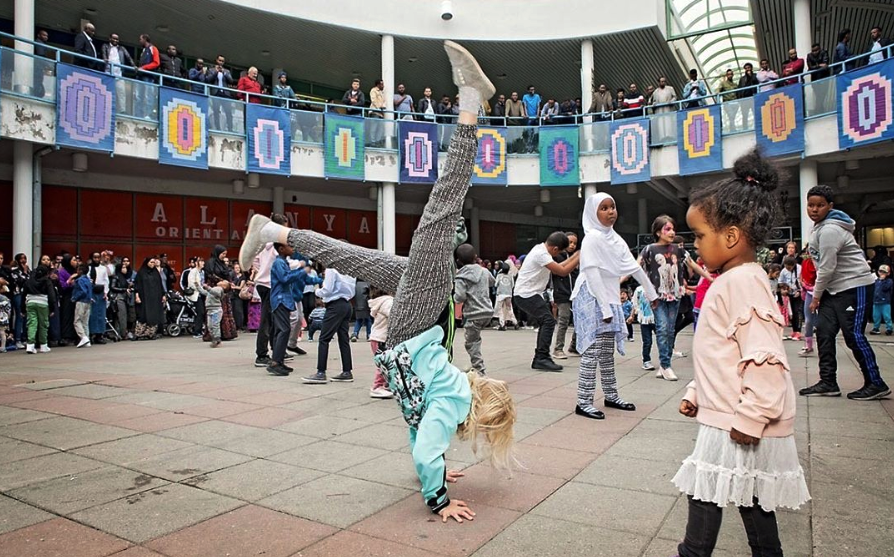 Music
Performances
Workshops
Restaurant Day
Art
Music

Performances

Workshops

Restaurant Day

Art
Welcome to organise the Puhos Loves People 2019 festival! Use our contact form below to tell us your interests. The event provides for example a platform to organisations for networking and showcasing their intercultural work for multilingual festival guests. You can also prepare food and sell it in the Puhos restaurant day event held during the festival. For the aforementioned we will provide tables and electricity and the participating is free of charge. You are also welcomed to join us for producing the festival by participating the area of production that interests you. In addition to contact form you can also contact us by e-mail or phone: info(at)puhoslovespeople.fi / +358468895896.
Puhos ♡ People 2018 festival is produced by Badbaado Organisation and artists JP Kaljonen & Sirkku Halme in cooperation with Funky Amigos Organisation, McMbay, Muutoksii Organisation, Meh Organisation, Tusovka Organisation, A-ryhmä, Writers´ and Artists´ Association Kiila, Oranssi Organisation, Itäkeskus Library, musician Joonas Lehtola, musician Megbah Ahmed, Elyas Lemechele, Alanya Oriental Market, Kirkuk Cafe, Restaurant Arbailo, Sabir halal-Meat Shop and Tronk. Festival host: Saartu Gada. Festival communication: Daria Tarkhova & Asha Sheikh Musse. Sound Techinician: Ville Saaristo. Festival area visualisation: artist Kristiina Tuura. Logistics: Barre Ahmed (Anwar). Supporters: Helsingin City / Culture and Leisure, Visio, Moniheli Organisation, Alli Paasikivi- and Samuel Huber Foundation, Maahanmuuttajanuorten Helsinki Job'd, Hadar Galax oy, Zeeno oy, H&H Teampalvelut oy.




















Kastelholmantie 2, A-osa, 00900 Helsinki