PUOTINHARJUN PUHOS, EAST-HELSINKI 17 AUG 2019
Puhos Loves People 2019 is a cultural festival for the whole family. The event takes place on Saturday 17th of August 2019 at Puhos Mall, located in Itäkeskus area of Helsinki, Finland. The Puhos mall is a spontaneously developed meeting point and lively entrepreneur hub which gathers people from diverse backgrounds. Puhos Loves People brings together music, food and other culture programme designed together by the communities from Puhos and other parts of Eastern Helsinki. The event is free of charge and alcohol free.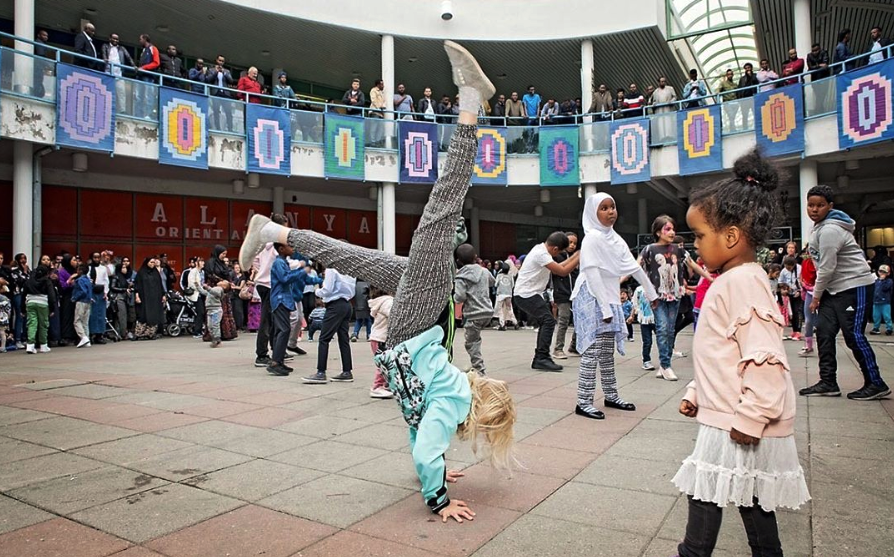 Music
Performances
Workshops
Restaurant Day
Organisation's Area
Welcome to organise the Puhos Loves People 2019 festival! Use our contact form below to tell us your interests. The event provides for example a platform to organisations for networking and showcasing their work for festival guests. You can also prepare food and sell it in the Puhos restaurant day event held during the festival. For the aforementioned we will provide tables and electricity and the participating is free of charge. You are also welcomed to join us for producing the festival by engaging the area of production that interests you. In addition to contact form you can also contact us by e-mail or phone: info(at)puhoslovespeople.fi / +358468895896.
Puhos Loves People 2019 festival is produced by organisations Bado, Funky Amigos and Meh and artists JP Kaljonen (prod fac) & Sari Hiltunen in cooperation with McMbay, Tusovka organisation, KAS! Kontula Art School, Writers´ and Artists´ Association Kiila, Sivuvalo Platform organisation, A-ryhmä, Helsinki Youth Council, K-pop Suomi organisation, Finnish Multicultural Sports Federation / Show Rasism the Red Card-, Mamanet- and Kestävästi liikkeelle! projects, Pium Capoeira / Cordão de Ouro, Vallgård Martial Arts, Helsinki NMKY, Finnish Somali Network, Africa Care, Moniheli Katto proiject, Helsinki Deaconess Institute Unit service & Vamos project, Auroras & Let´s Read Together Networks, Mpmto organisation, Banadir Cafe, Q Express, Puhos pizzeria, Omar group, Finn Haj and umrah, Taleh Cafe, Reihaan Abdirahmaan, musician Joonas Lehtolan and Elyas Lemechele. Festival host: Jamila Mohamud & Ahmed Mahamed. Sound technician: Ville Saaristo. Festival visualisation: installation artist Kristiina Tikke Tuura & visual artist Abida Jahan. Festival Communications: Daria Tarkhova. The festival is kindly supported by Helsingin City / Culture and Leisure, Moniheli organisation, Arts Promotion Centre Finland, Otto A. Malms donationsfond, Finnish Cultural Foundation, Migrant Youth Helsinki project Job´d and European Union (Frame, Voice, Report: Kestävästi Liikkeelle! -project and Erasmus+: Sport PLAY! -project).































Kastelholmantie 2, A-osa, 00900 Helsinki
Music
Performances
Workshops
Restaurant Day
Organisation's Area